The Royal Commission INtO INSTITUTIONAL RESPONSES TO CHILD SEXUAL ABUSE
The Royal Commission is an Inquiry into the way that institutions have responded to situations of child sexual assault and related matters. It investigates where systems have failed to protect children and will make recommendations on how to improve laws, policies and practices to better protect Australian children in the future.
The Royal Commission will hear the stories of people who have experienced sexual assault as children in an institution or connected to an institution. You are also able to tell stories about situations that you witnessed or knew about, but were not assaults against you.
Note: The Commission closed off registrations for all private hearing after on 30th September 2016.
The 'Terms of Reference' set the boundaries for which stories the Royal Commission will examine.
To meet the terms of reference the story must:
Involve the sexual assault of a child (under 18 years old when it happened);
Be a 'related matter' to the child sexual assault of a child (for example, grooming of children or allegations that were not followed up); and,
Involve an institution.
If you are unsure whether your story fits with the Terms Of Reference, you can email Bravehearts in confidence here or you can talk to us in confidence by calling 1800 272 831 (8:30am – 4:30pm AEST weekdays).
You can meet with us for a face-to-face discussion about the Royal Commission if you are based in Queensland or Sydney, NSW.
If you require special assistance to attend an appointment such as wheelchair access or interpreter service, please email or call 1800 272 831.
The Bravehearts Case Management Team can provide you with specialist assistance and support in navigating the Royal Commission process. Should you have a preference for either a male or female case manager, we would be glad to cater for your needs.
Our case management staff are a multi-disciplinary team with varied backgrounds in the areas of social work, law, child safety, psychology and criminology. This ensures our clients will gain the benefit of staff with an insight into the operations of various institutions. With practical experience in the areas of:
social work
family law
criminal law
child safety
How Bravehearts Can Help
This diagram shows the three stages of participating in the Royal Commission: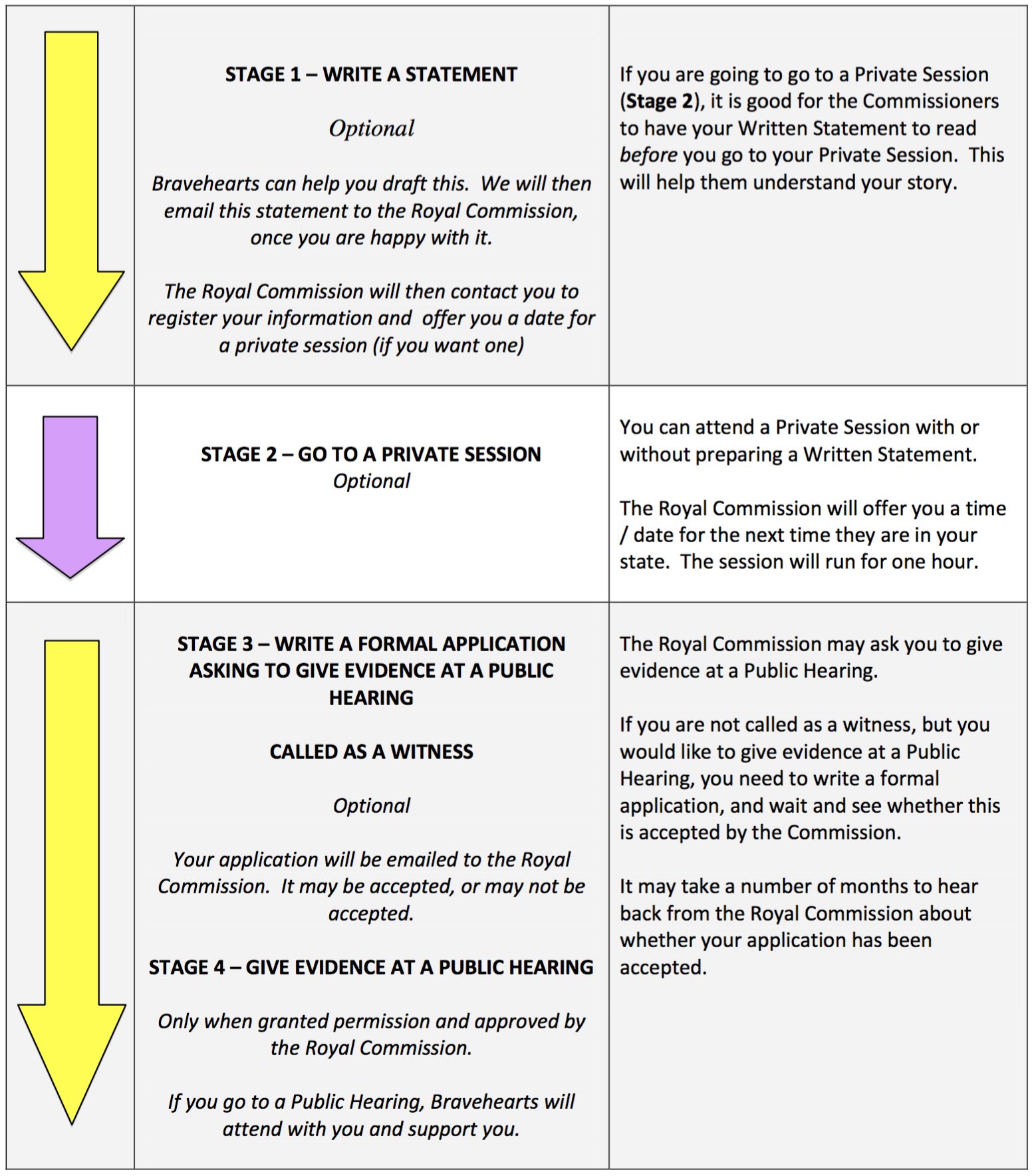 Bravehearts Can:
Provide you with information and advice about participation in the Royal Commission;
Be the contact person for you to assist you with your interaction with the Royal Commission staff;
Help you write your Written Statement – either via telephone or we can meet with you in person;
Attend a Private Session with you, as your support person;
Help you in relation to the Public Hearings;
Provide counselling and ongoing case management for clients;
Provide referrals to appropriate support services; and,
Answer any questions that you have.
Fact Sheets and Information brochures are available for download below:
How Bravehearts can help you with the Royal Commission
Giving the Royal Commission a Written Statement
Going to a Private Session of the Royal Commission