support bravehearts' mission to prevent child sexual assault by donating today…
Making a donation to help protect Aussie kids is easy! You can DONATE NOW online to support Bravehearts in our Mission to prevent child sexual assault. All funds go directly benefiting Australian children by enabling Bravehearts to deliver vital services to the community and children in need.
Make a gift that keeps on giving…
Become a Regular Giver for as little as $5 a month – that's less than the cost of a coffee!
To make an ongoing difference in the lives of Australian children, you may like to make a regular gift to Bravehearts.
Regular Giving is super-easy to set up and can be done ONLINE NOW via our secure donation form, or if you would like to talk to our friendly team for more information, please call (07) 5552 3019 Mon-Fri during business hours.
OTHER WAYS TO GIVE
Gift Donations
You will find other donation options in our GIFT DONATIONS section of our online shop. These Gift Donations include the GIFT OF HOPE donation certificate (pictured below), which allows you to donate in the name of another person as an alternative to a Christmas or birthday present.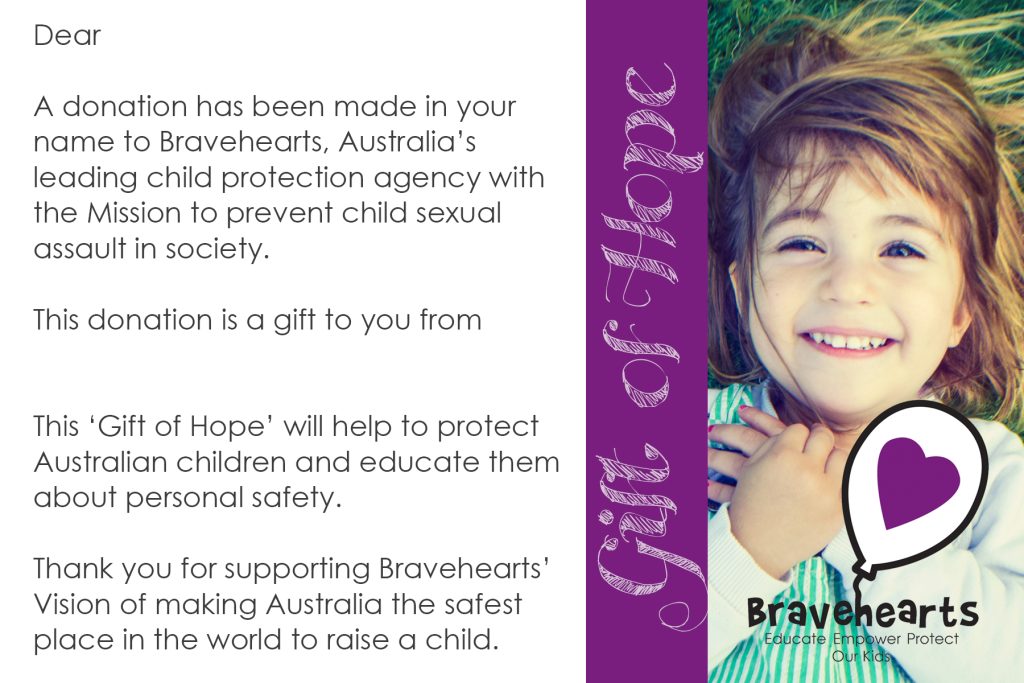 Or you may wish to give the GIFT OF PERSONAL SAFETY SKILLS, by sponsoring a Ditto Education Show for a class of primary school children.
Alternatively, you could give the GIFT OF HEALING by sponsoring a specialist counselling session for a child affected by the crime of sexual assault.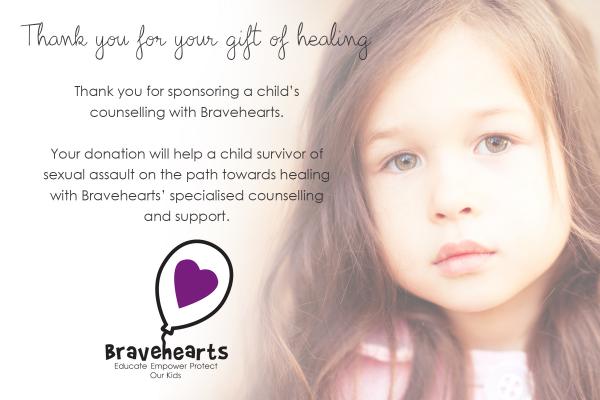 There is also an option of making a donation to Bravehearts in the memory of a loved one who has passed away, with our GIFT IN LOVING MEMORY. For more information about our Gift Donations, please click on the link below >>
LEARN MORE ABOUT GIFT DONATIONS
Prefer to donate over the phone, post or fax? 
Call us on 1800 272 831 and we'll take your details over the phone, or download the Bravehearts donation form and either fax to 07-5552 3018, or mail to: Bravehearts, PO Box 575, Arundel BC, QLD 4214.
Bravehearts Foundation Ltd is an ATO registered Deductible Gift Recipient meaning any donations over $2 are fully tax deductable. ABN: 41 496 913 890.